🔍
Aspartic Acid
Chemical Name: L-Aspartic acid

CAS No.:56-84-8

MF: C4H7NO4

MW:133.1

Purity: >99% or As customer requested

Color: White

Product Categories: amino acid; bio-chemical;chemicals; Food & Feed ADDITIVES;

Test method: HPLC
Description
What is Aspartic Acid?
Aspartic Acid is a non-essential amino acid in humans, Aspartic Acid has an overall negative charge and plays an important role in the synthesis of other amino acids and in the citric acid and urea cycles. Asparagine, arginine, lysine, methionine, isoleucine, and some nucleotides are synthesized from aspartic acid. Aspartic acid also serves as a neurotransmitter.
L-aspartic acid is the L-enantiomer of aspartic acid. It has a role as an Escherichia coli metabolite, a mouse metabolite and a neurotransmitter. It is an aspartate family amino acid, a proteinogenic amino acid, an aspartic acid and a L-alpha-amino acid. It is a conjugate acid of a L-aspartate(1-). It is an enantiomer of a D-aspartic acid. (Source: ChEBI)
| | |
| --- | --- |
| Product Name: | L-Aspartic acid |
| Synonyms: | L-Aspartic acid USP; Asparagic acid; Asparaginic acid; L-aspartate; aspartate |
| CAS: | 56-84-8 |
| MF: | C4H7NO4 |
| MW: | 133.1 |
| EINECS: | 200-291-6 |
| Product Categories: | amino acid; bio-chemical;chemicals; Food & Feed ADDITIVES; |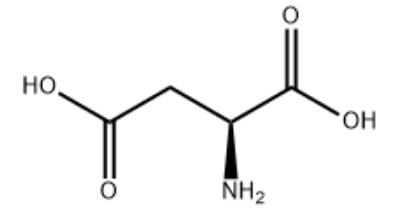 Melting point 
>300 °C (dec.)(lit.)
alpha 
25 º (c=8, 6N HCl)
Boiling point 
245.59°C (rough estimate)
density 
1.66
FEMA 
3656 | L-ASPARTIC ACID
refractive index 
1.4540 (estimate)
storage temp. 
Store below +30°C.
solubility 
H2O: 5 mg/mL
form 
powder
pka
1.99(at 25℃)
color 
White
PH
2.5-3.5 (4g/l, H2O, 20℃)
Odor
acid taste
optical activity
[α]20/D +24.7±1°, c = 5% in 5 M HCl
Water Solubility 
5 g/L (25 ºC)
λmax
λ: 260 nm Amax: 0.20
λ: 280 nm Amax: 0.10
JECFA Number
1429
Merck 
14,840
BRN 
1723530
Stability:
Stable. Combustible. Incompatible with strong oxidising agents.
Apartic acid is an aliphatic monoaminodicarboxylic acid (amino acid) and is a well-known constituent of protein. It has a slight acid taste.
Aspartic acid Uses
It has a wide range of uses in medicine, food and chemical industry.
First, In medicine, it can be used to treat heart disease, liver disease, hypertension, and has the effect of preventing and restoring fatigue. Together with a variety of amino acids, it is made into amino acid infusion, used as an ammonia antidote, liver function promoter, and fatigue recovery Agent.
Second, In the food industry, it is a good nutritional supplement, added to various refreshing drinks; it is also the main raw material of sweetener (aspartame)-aspartame.
Third, In the chemical industry, it can be used as a raw material for the manufacture of synthetic resins. It can also be used as a nutritional additive in cosmetics.
MSDS: MSDS available.
COA: COA can be available if you send us inquiry.
Email us at: info@maxmedchem.com for more details.   
Packaging and Shipping